If you like adrenaline and fun, then don't miss this TOP attraction in Snowparadise.
With us you can try a unique ride on the longest bobsleigh track in Slovakia – Alpincoaster at speeds up to 40 km/h, which is in operation in summer and winter season – in case of favorable weather conditions.
It is set in beautiful nature, so you can enjoy beautiful views while driving.
The start of the bobsleigh track is to the right of the top station of the cable car at Dedovka and there is also a destination in the same place. That means where you get on the bobsleigh track, that's where you get off. 🙂 tickets can be purchased at the resort's ticket offices.
OTVÁRACIE HODINY BOBOVEJ DRÁHY
V prípade priaznivých poveternostných podmienok denne od 8:30 do 15:30
SEZONKÁRI POZOR
Za prejavenú dôveru kúpou sezónneho skipasu sme sa rozhodli obdarovať vás zážitkami na našej bobovej dráhe. S platným sezónnym skipasom na sezónu 2021/2022 máte teda bobovú dráhu GRÁTIS.
Course parameters
| | |
| --- | --- |
| Length | 1300 m |
| Maximum speed, duration | 40 Km/h, approx. 7-10 minutes |
| Number of turns | 15 |
| Number of rondls | 1 |
| Number of jumps | 12 |
The track passes from the top station of Dedovka under the cottage Koliba, several serpentines. Then you will have a 360° rondel, a number of turns and jumps. Back to the top of Dedovka you can still get on a trolley 400 m by lift.
The entire bobsleigh track is constructed taking into account maximum safety.  You control the speed of the trolley yourself, with its maximum speed technically adapted to 40 km/h and the trolley unable to leave the track and are strapped to it with a seat belt throughout the journey. The trolleys are two-seater and can also be carried by two adults. The maximum load capacity is 250 kg.
The ride takes about 7-10 minutes, depending on the speed you choose.
Security Desatoro
Get to know the transport regulations.
Observe the operating instructions.
Both hands on the brake.
Do not stop on the track.
Watch the track in front of you.
Follow the warning signs.
Tilt into bends.
Watch out for loose clothing and hats.
Drive slowly on a wet track.
Enter the station very slowly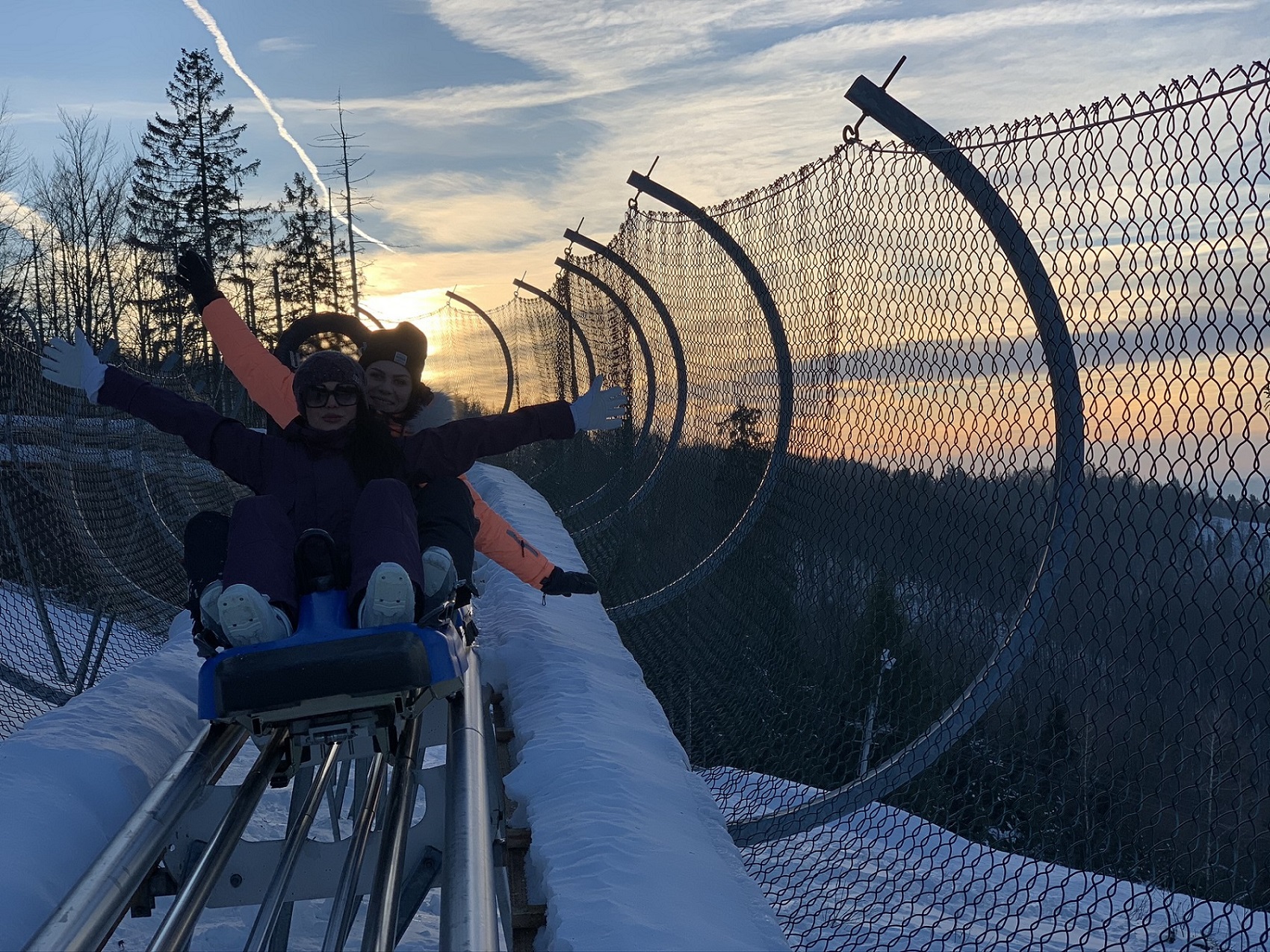 Videos from the bobsleigh track