ONE BOBSLEIGH RIDE IS VALID FOR ONE PERSON.
DETI DO 8 ROKOV VEKU V SPRIEVODE DOSPELEJ OSOBY MAJÚ BOBOVÚ DRÁHU GRÁTIS!
Ak máte radi adrenalín a zábavu, potom v Snowparadise nevynechajte túto atrakciu.
U nás si môžete vyskúšať jedinečnú jazdu na najdlhšej bobovej dráhe na Slovensku – Alpincoaster v rýchlosti až 40 km/h, ktorá je v prevádzke v letnej aj v zimnej sezóne – v prípade priaznivých poveternostných podmienok.
Je umiestnená v nádhernej kysuckej prírode, takže počas jazdy sa môžete pokochať krásnymi výhľadmi.
Štart bobovej dráhy sa nachádza vpravo od vrcholovej stanice lanovej dráhy v Dedovke a na rovnakom mieste je aj cieľ. To znamená, že tam kde na bobovú dráhu nastúpite, tam aj vystúpite. Lístky si môžete zakúpiť v pokladniach strediska.
Path parameters
| | |
| --- | --- |
| Length | 1800 m (1300 m descent + 500 m lift) |
| Maximum speed, duration | 40 Km/h, approx. 7-10 minutes |
| Number of turns | 15 |
| Number of rondls | 1 |
| Number of jumps | 12 |
Dráha prechádza od vrcholovej stanice lanovej dráhy v Dedovke popod chatu Koliba, niekoľkými serpentínami. Potom vás čaká 360° rondel, množstvo zákrut a skokov. Naspäť na vrchol Dedovky sa dostanete stále na vozíku, a to 400 m dlhým vlekom.
Celá bobová dráha je konštruovaná s prihliadnutím na maximálnu bezpečnosť. Rýchlosť vozíka si regulujete sami, pričom jeho maximálna rýchlosť je technicky prispôsobená na 40 km/h a vozík počas celej jazdy nemôže opustiť trať a ste k nemu pripútaný bezpečnostným pásom. Vozíky sú dvojmiestne, pričom sa na nich môžu viezť aj dve dospelé osoby. Maximálna nosnosť je 250 kg.
The ride takes about 7-10 minutes, depending on the speed you choose.
Ten Commandments of Security
Get acquainted with the timetable.
Pay attention to the operator's instructions.
Obidve ruky majte na brzde.
Do not stop on the track.
Follow the track ahead.
Watch the warning signs.
Lean into corners.
Beware of loose clothing and hats.
On a wet track, drive slowly.
Enter the station very slowly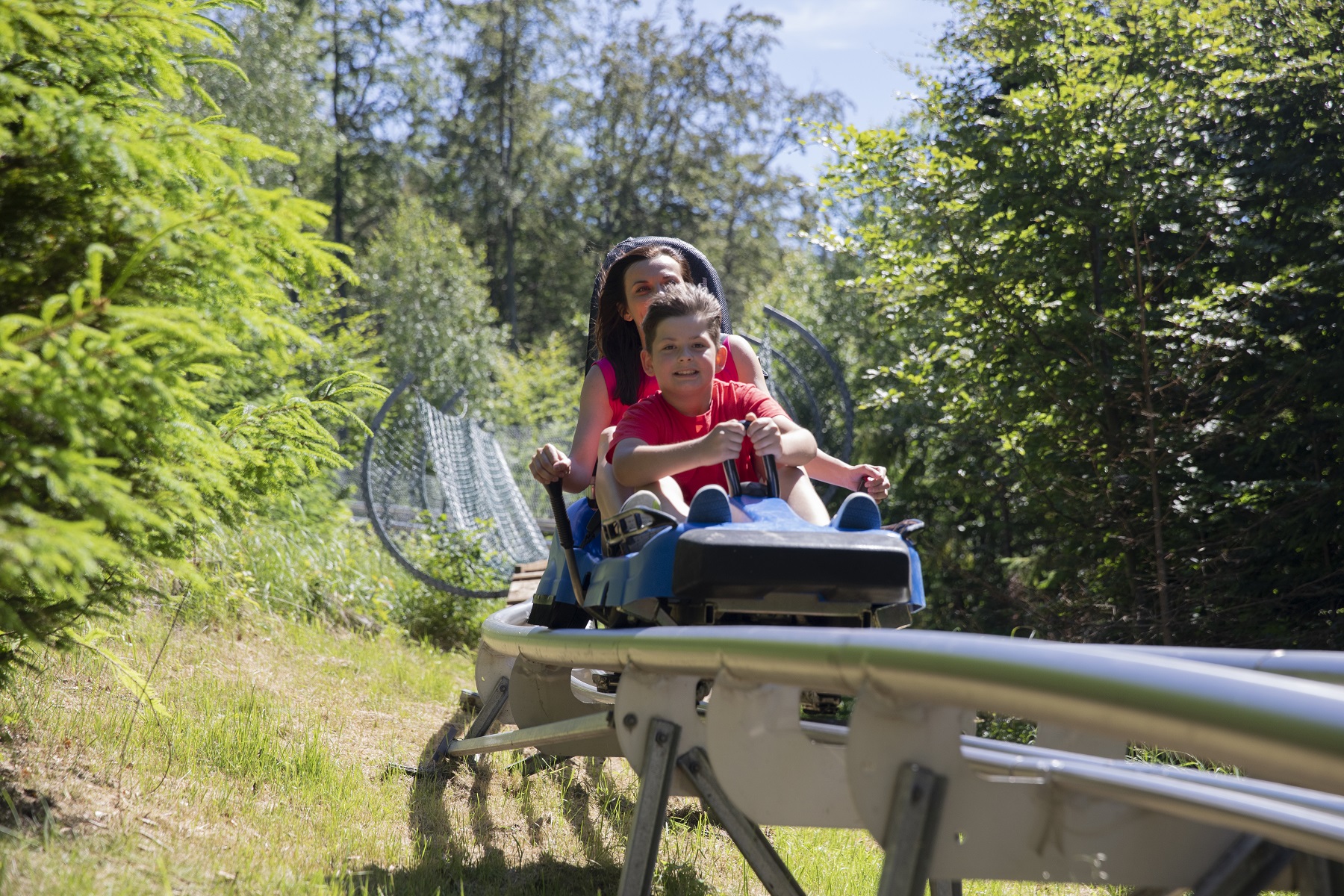 Get a beautiful memory in the form of a photo while riding on the bobsleigh track!
Take advantage of the opportunity to take away from the resort, in addition to a great experience, a beautiful keychain, magnet or photo frame with your bobsleigh track photo. Photo products can be purchased at the box office at the top station of the Dedovka cable car.