ONE BOBSLEIGH RIDE IS VALID FOR ONE PERSON.
CHILDREN UNDER 8 YEARS OF AGE, ACCOMPANIED BY A PARENT, HAVE A BOBSLEIGH TRACK FOR FREE!
If you like adrenaline and fun, then in Snowparadise do not miss this TOP attraction.
With us, you can try a unique ride on the longest bobsleigh track in Slovakia – the Alpincoaster at speeds of up to 40 km / h, which is in operation in both the summer and winter seasons – in case of favorable weather conditions.
It is located in beautiful nature, so you can enjoy beautiful views while driving.
The start of the bobsleigh track is located to the right of the top station of the cable car at Dedovka, and in the same place is the destination. This means that wherever you get on the bobsleigh track, you will also get off there. 🙂 Tickets can be purchased at the resort's ticket offices.
Path parameters
| | |
| --- | --- |
| Length | 1800 m (1300 m descent + 500 m lift) |
| Maximum speed, duration | 40 Km/h, approx. 7-10 minutes |
| Number of turns | 15 |
| Number of rondls | 1 |
| Number of jumps | 12 |
The track passes from the top station of Dedovky under the cottage Koliba, through several serpentines. Then a 360° rondel, a lot of turns and jumps await you. You can get back to the top of Dedovka still on a wheelchair 400m by lift.
The entire bobsleigh track is constructed taking into account maximum safety.  You control the speed of the trolley yourself, while its maximum speed is technically adjusted to 40 km/h, and the trolley cannot leave the track during the entire ride and you are fastened to it with a seat belt. The trolleys are two-seater and can also be carried by two adults. The maximum load capacity is 250 kg.
The ride takes about 7-10 minutes, depending on the speed you choose.
Ten Commandments of Security
Get acquainted with the timetable.
Pay attention to the operator's instructions.
Both hands on the brake.
Do not stop on the track.
Follow the track ahead.
Watch the warning signs.
Lean into corners.
Beware of loose clothing and hats.
On a wet track, drive slowly.
Enter the station very slowly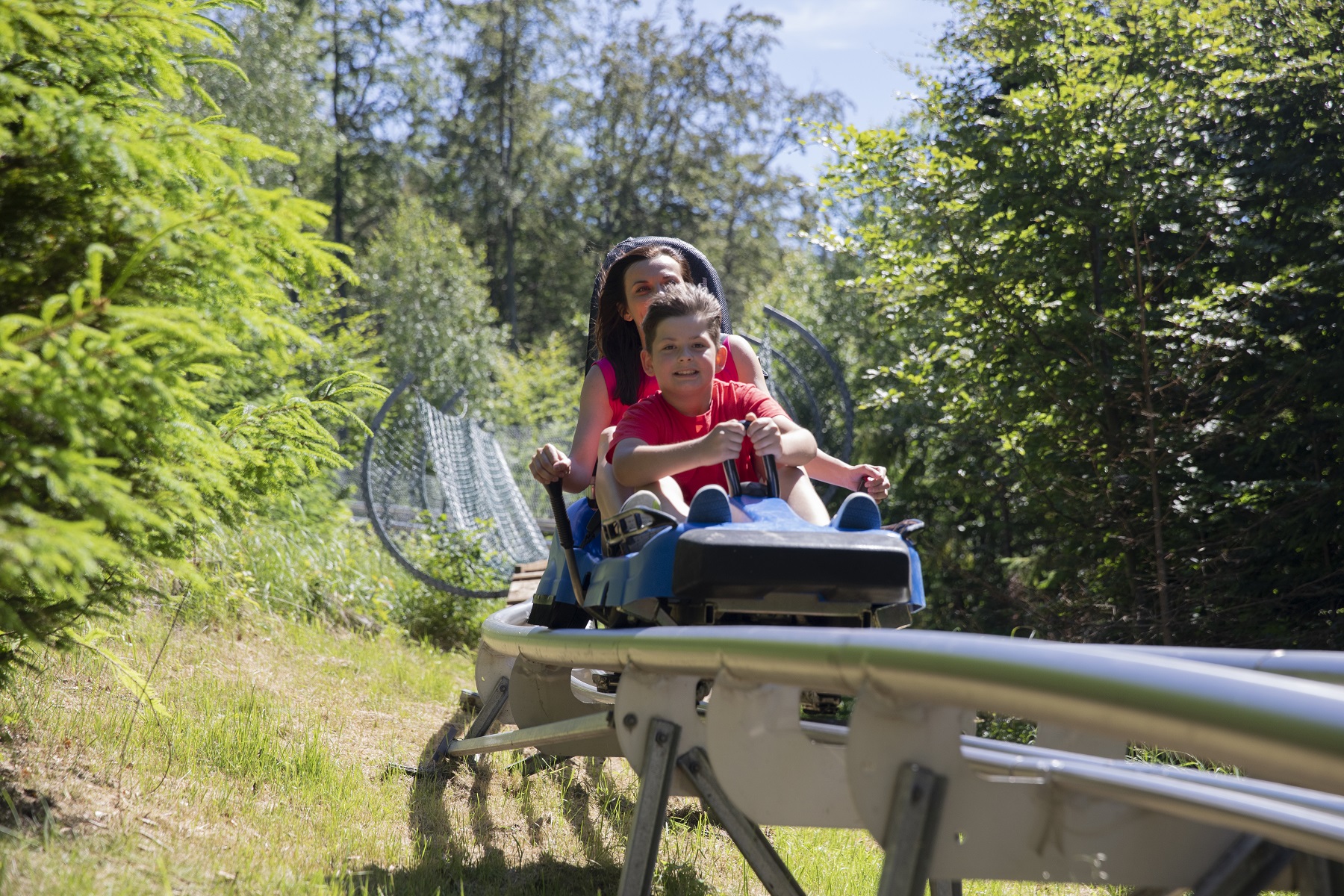 Get a beautiful memory in the form of a photo while riding on the bobsleigh track!
Take advantage of the opportunity to take away from the resort, in addition to a great experience, a beautiful keychain, magnet or photo frame with your bobsleigh track photo. Photo products can be purchased at the box office at the top station of the Dedovka cable car.